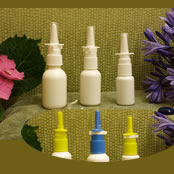 Nasal Spray Pumps White PE Bottles Empty
Actuation per pump used to deliver medication upright applicator by means of the nostrils
Screw On Nasal Spray Fine Mist– estimate 0.10 ml per pump,  Upright Fine Mist Applicator with clips/stoppers
with 20 ml PE bottle 4.2″ H, with 1 oz. PE bottle 4.7″ H, and with 1.5 oz. PE bottle 4.9″ H,  as per pictures shown
In Stock – Minimum Order 10 bottles.    We Take Overseas Orders – Shipped From USA
New Customer To Order Samples – 10 Sets for $30, please indicate which size & type in your note while pay. If Regular Customers, please scroll down to order larger quantities
Our nasal spray pump is a reliable and convenient device designed for efficient delivery of nasal spray solutions.
The pump is designed to fit seamlessly with our refillable Empty White HDPE PE bottles with screw-on necks, allowing easy dispensing of the solution.

The bottles are made of high-quality materials that ensure durability and longevity, while maintaining air-tightness for preservation of the solution. Refilling the bottles is easy, thanks to the screw-on neck design that ensures a tight, secure seal.

Our nasal spray pump offers an effective and user-friendly solution for administering nasal spray medication and is a must-have for anyone looking for high-quality and reliable nasal spray pumps fine mist. Get yours today and experience the difference it makes!
White Nasal Spray Pump Fine Mist
 with EMPTY White PE Bottles
 20 ml or 30 ml (1 oz.) White PE Bottles
USA Order $1.79 x100 + S&H $29= $208.00
USA Order $1.59 x 500 + S&H $79= $874.00
Global Order $1.99 x 10 + S&H $27= $46.90
Global Order $1.79 x100 + S&H $99= $278.00
– Click Dropdown Menu To Select Below –
45 ml (1.5 oz.) or 4 oz. White PE Bottles
USA Order $1.79 x100 + S&H $37=215.00
USA Order $1.59 x 500 + S&H $79=874.00
Global Order $1.99 x 10 + S&H $27=46.90
Global Order $1.79 x100 + S&H $99=278.00
– Click Dropdown Menu To Select Below –
Scroll Down : Green or Blue Nasale Spray Top Pumps
Green or Blue Nasal Spray Pump
with 20 ml & 30 ml White PE Bottles
 20 ml or 30 ml (1 oz.) White PE Bottles
USA Order $1.79 x100 + S&H $29= $208.00
USA Order $1.59 x 500 + S&H $79= $874.00
Global Order $1.99 x 10 + S&H $27= $46.90
Global Order $1.79 x100 + S&H $99= $278.00
– Click Dropdown Menu To Select Below –
We Carry More Items for Your Choices
#atomiser spray screw cap mm
#glass tube ml mm
#mm glass tube ml
#plastic nasal spray bottles pump
#nasal spray bottles pump sprayer
#bottles pump sprayer mist nose
#plastic stopper standard joint screw on